We decided to use the expertise of Edge Concept Landscapes & Designs to create something special. Through Steve Dimitriou's design ideas, we were able to design what we wanted to fit our lifestyle. The execution of the project was handled efficiently and promptly. In a nut shell we are indeed happy with Edge Concepts.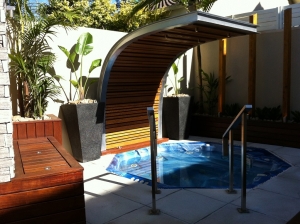 Lanny and I stumbled upon two separate pool and landscaping designed we loved while walking along our neighbourhood a few years ago. When it came to building our new home, we decided that we had to find out who the pool/ landscapers were. And we were surprise that it's was none other than Edge Concept. Yes, both of them.

From the start to finish, they were excellent. Hearing our ideas and incorporating it into the overall design. The quality of work is excellent, you just cannot fault it. No problem is too hard. They were professional thru out the project.

Ten months after the project we had a problem with one of the garden door due to a recent storm. When I called Edge Concept, there were no hesitation, they came over the next day and job well done. What excellent after sale service!!

I have no reservation in recommending Edge Concept.